We've got a ton to do to prepare for our concert!
Preparing for live performance takes everything you've got. We're practicing late at night, double checking notes and standing in front of the mirror to practice our rock-and-roll stance. There never seems to be enough time.
Curtis Kamiya Music has just made this a little easier for all of you.
From now until our concert, which is on Mother's Day, I'm throwing in a free lesson.
Until May 14th, 2017, If you buy a package of 5 lessons you'll get one more free
.
This way you can get a few more last minute lessons in before the show! You don't even have to participate in the concert to get the deal.
Good luck practicing!
Curtis
It's that time of year again!
Download the flyer here
.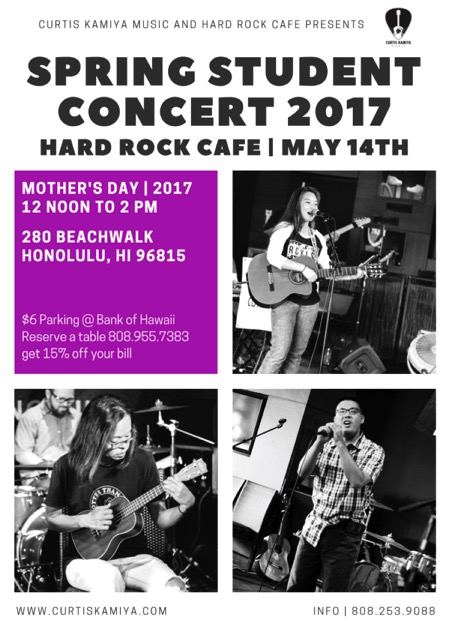 Time for us to start preparing for our Spring Student Concert again. You are all welcomed to participate.
Get in touch with me and let's start practicing!
Here are the details:
Performance:
Sunday, May 14, 2017 (Mother's Day)
12 noon to 2pm
Hard Rock Cafe
280 Beachwalk
Honolulu, HI 96815
$6 Parking @ Bank Of Hawaii Building
Reserve a table get 15% off your bill (808.955.7383)
Band Rehearsal:
Sunday, May 7th, 2017
12 noon to 5pm (by appointment)
Curtis Kamiya Music
550 Halekauwila Street
Suite 310
Honolulu, HI 96813